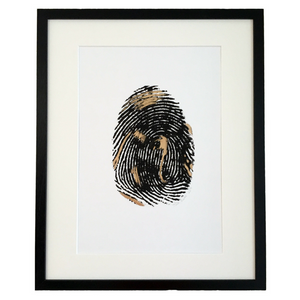 I am Print ... made from your fingerprint.
A contemporary take on an individuals portrait.
I am Print provides you with step-by-step instructions on how to record your fingerprint and send to our studios artists. Using both digital and free-hand techniques, your totally unique mark is enhanced and finished with gold acrylics or 24ct gold leaf, creating a bold piece of art to hang on the wall of your home.
Offering you a sophisticated alternative to a traditional photograph.