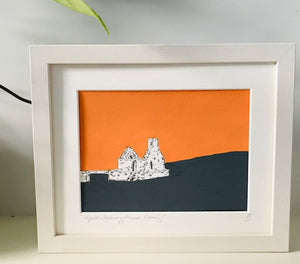 8" x 10" art print in a white wooden frame.
available in 10 x 12 inch and 16 x 20 inch options.
The beautiful 12th Century Monks fishing house. This historic building is built over the flowing river in Cong, Co. Mayo, Ireland
A testament to better things lasting the test of time, this print is created in studio here in Cong by MAYSONBROOK.  using artists inks, pens and beautiful watercolour papers, it comes framed in a wooden frame with glass...a beautiful contemporary slant on a place that has seen many many years.